Night Drainage Bags for Catheters
How to disconnect or attach a night drainage catheter bag, safe disposal and when to seek help.
Originally published on: June 23rd, 2020. Last modified on December 15th, 2021
There are some important points to remember when managing your catheter. First of all, keep your leg and night bag below the level of the bladder to prevent the backflow of urine. Avoid disconnecting the leg bag unnecessarily or touching the end of the connector as this can lead to infection, and do not use oil based creams or talcum powder around the catheter area. Try to avoid constipation as this can interfere with catheter function, and remember that movement such as a little exercise can often get rid of any debris such as old tissue cells in your bladder. 
Hygiene is vitally important, so always wash the area around where the catheter enters your body at least once per day with soap and water to remove any encrustation or debris which may have dried to your catheter.
Leg bags and catheter valves can be used by those assessed for suitability but some users of suprapubic catheters may find the Belly Bag more useful. These are available on prescription, see your Healthcare Professional for information. 
The following information will support you in attaching or disconnecting a night drainage bag.
Get your FREE Digital Just Can't Wait Toilet Card The Original Toilet Access Card Access to toilets not normally available to the general public Discreet, clear communication when you just can't wait to use the toilet Widely…
How to attach a night drainage bag
It is essential that high standards of hygiene are maintained at all times when attaching a night drainage bag. You must wash your hands prior to handling your catheter, see our 6 step handwashing guide here.
If someone is doing this for you, they must wear disposable gloves.
Wash hands, put on gloves.




Remove protective cap from night drainage bag.




Insert night bag connector firmly into leg bag outlet tube. If using a catheter valve, the night drainage bags connected directly to the valve must always be single use and sterile.




Remove leg straps or bag support device to allow free drainage.




Open tap between leg bag or valve, and appropriate night drainage bag.




Place night drainage bag on a supporting stand so the bag is positioned lower than the bladder to aid drainage.




Never let the catheter be pulled by the drainage bags.
How to disconnect a night drainage bag:
As with attaching a night bag, if someone is doing this for you, they must wear disposable gloves.
High standards of hygiene are essential at all times. You must wash your hands prior to handling your night drainage bag, see our 6 step handwashing guide here.
Wash hands, put on gloves.

Close tap on leg bag or valve.

Disconnect night drainage bag from leg bag or valve if worn.

Empty urine from bag and discard as instructed by your Healthcare Professional (See below).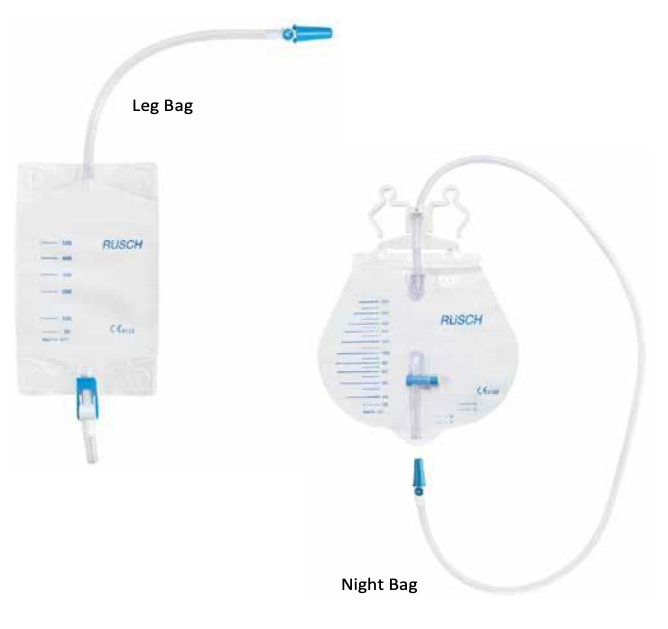 How to dispose of Catheter Bags
Your Healthcare Professional will advise you as to the correct disposal of urine bags, there are local policies which differ in many areas. Usually they are emptied, wrapped in several sheets of newspaper or sealed in a plastic bag and placed in the household rubbish dustbin.
The bags should not be burned on an open fire or electric incinerator.
---
Further Information
For more detailed information on catheter care, visit our catheter hub or our downloads section where you can find printable guides.
The Bladder & Bowel Home Delivery Service can offer you expert advice from a trained nurse about catheter care and help you find the right products to manage your condition.
For more information on catheter care products call our Home Delivery Team on 0800 031 5406.
We have some free samples of the new LoFric Elle catheter, suitable for females who self catheterise. Discreet and easy to use with its unique L-shaped handle, offer available to UK residents. Request yours here!